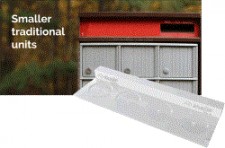 Online, October 28, 2015 (Newswire.com) - TORONTO, ON - Snaile, Inc. (pronounced "Snailee") is proud to announce the presale launch of their new Canadian mail notification technology with an official launch date of January 2016. Installed directly into an owner's Canada Post community mailbox (CMB), the service alerts users when mail is physically present. The simple and easy-to-install device simplifies the physical verification process whenever mail is added to the box.
The founding of the service was motivated by Canada Post's announcement discontinuing door-to-door delivery of urban mail. By 2018, the change is expected to affect over 5 million residents. Accordingly, many Canadians have already become accustomed to the use of a CMB. One of the most frustrating elements of these boxes is arriving to collect mail -- only to have none present. Snaile solves this issue through the simple and effective installation of their device. Any time physical mail is present within a user's CMB, an alert is sent to notify users. That way, users no longer have to waste time -- spending money on gas and parking -- to go to their boxes when there is no mail present.
According to Snaile CEO Patrick Armstrong, the service was designed with one primary component in mind: convenience. And the public response to this installation has already shown immense promise. "We thought this would be a good service in the Internet of Things space to help return some convenience to the 27% of Canadians who could suddenly lose a service that was always taken for granted, should the community mailbox moratorium announced by Canada Post on October 26th 2015 be ultimately lifted. In the meantime we will provide our service to the majority of Canadians who do not have door-to-door delivery," Armstrong recently discussed. "Our thinking was legitimized when we had surveyed, by an accredited 3rd party, 400 Canadians with current or soon-to-be converted CMBs. We asked them if they would be interested in a service like Snaile. 43% of respondents answered 'Yes' and 10% answered 'Maybe' -- showing a very high level of positive interest in what we offer."
There are also some environmental benefits to Snaile, as it reduces unnecessary trips in the car to an empty mailbox. According to a paper published by the Canadian Union of Postal Workers (CUPW) and prepared for the 23rd Conference on Postal and Delivery Economics in Athens, Greece, there is every indication that many Canadian residents frequently drive to their community mailbox and allow their car to idle while they pick up mail. According to Armstrong, Snaile could eventually tally and quantify these environmental benefits.
The technology behind Snaile is driven by several breakthroughs within infrared detection technology. The patent-pending system contains multiple infrared light-emitting diodes (LEDs) that create a 'glow' within the mailbox and above the Snaile tray. When physical mail is present in the box, the 'glow' is reflected back into the tray. From there, users are sent a text message notification alerting them of the mail. The product is offered in two different sizes: one for the new larger CMBs that are currently being deployed by Canada Post and a smaller normal size to fit in the over 3.8 million existing CMBs. In addition, Snaile's production level modular design allows it to be easily configured for other postal markets such as the United States, where the market for Snaile is ten times larger than in Canada and where US politicians have discussed following Canada Post's CMB cost-cutting reform.
Current presale information can be found on the company website at www.snaile.com and on Facebook
YouTube
ABOUT SNAILE INC.:
Snaile Inc. is a privately held company founded by Armstrong Holdings, a Canadian private investment firm, in January 2015. Based out of Huntsville, Ontario, Canada, the company's flagship product focuses on servicing Canadian customers with its community mailbox mail notification device. Deployed as a Hardware-as-a-Service (HaaS) model, the system utilizes patent-pending LED diode technology to detect the physical presence of mail and immediately notify users via text message. The service is currently available for presale with its initial launch scheduled for January 2016.
Image Available: www.marketwire.com/library/MwGo/2015/10/26/11G069037/Images/SMAILLER-738051701097.gif
Image Available: www.marketwire.com/library/MwGo/2015/10/26/11G069037/Images/NEWER-511423478793.gif
Image Available: www.marketwire.com/library/MwGo/2015/10/26/11G069037/Images/mw1a2odhc9tm6vpbo1i3g8jo1llk2-1136831500082.gif
Image Available: www.marketwire.com/library/MwGo/2015/10/26/11G069037/Images/GoingSocial_Campaign1-161828896663.jpg
Embedded Video Available: youtu.be/J9JlQwzAp2U
Attachment Available: www.marketwire.com/library/MwGo/2015/10/26/11G069037/kirstin_thomas_-_Snaile_PressKit_EN_Oct28b-337737067829.pdf
Source URL: http://www.marketwired.com/mw/release.do?id=2068365&sourceType=3
Share: